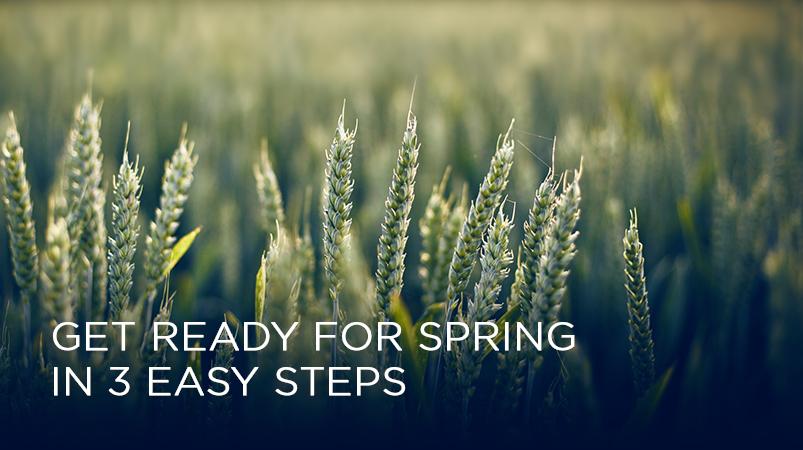 Get Ready for Spring in 3 Easy Steps
It's suddenly March, and that means -- believe it or not -- that spring is right around the corner.
After long months of winter, you may not feel quite ready to escape your winter cocoon and show the world what's hiding underneath. Dark days, cold weather, and dry air can all take their toll, leaving you feeling somewhat less than your best by the time spring rolls around.
If you've spent winter feeling less than your most confident, most beautiful self, we feel your pain. But we've also got a plan to spend the last weeks of winter getting ready for spring. Why don't you join us?
Pamper for Your Skin
When spring finally shows up, you want to feel confident peeling off those layers and showing a little skin. For that to happen, though, you need to make sure you're nourishing your skin even when it's covered in two sweaters and three pairs of tights! Keep your skin feeling healthy and looking beautiful by pampering it just a little extra in these last couple weeks of winter.
Indulge in a Facial Steam
Whether you need to cleanse your pores or clear out your sinuses, a facial steam is like a mini spa treatment that you can do from the comfort of your own home.
To make a steam, pour two cups of boiling water into a bowl with either dried lavender or several drops of lavender essential oil. Lean over the bowl with a towel draped over your head to catch the steam. Breathe deeply for several minutes and allow the steam to permeate your skin. You'll feel relaxed and rejuvenated, and your skin will be grateful for the fragrant moisture.
Use a Rich Moisturizing Oil
If you're suffering from dryness or roughness, try replacing your normal moisturizer with a gentle oil. Caudalie's Divine Oil is excellent for all skin types, and will help clear up dryness, redness, acne scars, and sun damage. Use just a few drops at a time and before you know it, your skin will look dewy, fresh, and ready for spring.
Exfoliate the Rough Spots
Before you pull out short sleeves and sandals, make sure that your skin is ready to see the world. Exfoliate your elbows, knees, hands, and heels to remove any rough, dry patches. We love the Brown Sugar Body Polish from Fresh.


Care for Your Hair
Though we'd never complain about having central heating in the winter, it does do a number of your hair, Add in months of wearing nothing but sweaters and hours in woolen hats, and you have a recipe for dry, staticky, damaged hair. It's hard to feel beautiful and confident when your hair is on the fritz (or, perhaps, on the frizz?) so before spring arrives, treat yourself to a little extra-special hair care.
Use a Deep Conditioning Mask
Give your hair an extra boost to get over all the winter dryness with a hair mask, such as the Restore Mask Treatment from Living Proof. It will help heal damage and split ends, leaving your hair soft and ready for spring. Plus, a little at-home spa time is a great way to cheer yourself up during those last weeks of winter!
Avoid Too-Hot Showers
If it's still cold where you live, then taking a long, hot shower can seem like the only way to get through the day. But be careful not to turn the heat too far up: too much hot water can actually dry out your scalp, leaving it damaged and flaky. Instead, heat the bathroom and leave the water at a comfortable warm temperature.
Tame the Frizz and Fly-aways
Months of blow-drying can take their the toll on your hair, leaving it frizzy and broken. To get your style smooth and polished once more, tame the fly-aways with a gentle, lightweight hair oil. You can go natural with a dab of coconut oil, or, if you need something a little more intense, try Josie Maran's Argan Oil Hair Serum.
Break Out of a Rut
It might still be a few weeks until you can switch your boots and scarves for dresses and sandals, but that doesn't mean you have to settle for monotony. Make these next few weeks interesting and fun by breaking out of the habits you've settled into over the last three months. By the time spring fully arrives, you'll be happy, healthy, and ready to get out and play.
Plan a Vacation
During the last few weeks of winter, it can be easy to hunker down at home and wait for the sun to show its face again. But that can get boring and depressing really fast. Instead, take advantage of off-season airfares and plan a mini vacation. It doesn't have to be big or long; even a weekend getaway can help you recharge and have some unexpected fun.
Try a New Style
Do you do your makeup the same way every day? Living in your boots and wool socks? Give yourself a mental boost by changing up your style. Pick out a bright new lipstick, throw on a pair of false lashes for a night out, or swap clothes with a friend to give your wardrobe a little pick-me-up. You'll feel fresher, more confident, and more creative by breaking out of your routine.
Get Outside
As the sun begins to show itself a little more each day, make time to get outside while it's still light. Put on your all day wear eyeliner and go for a run in the morning, a walk at lunchtime, or a weekend day trip, time outside is the best way to feel happier and more energetic. Even if you still have to bundle up,  shake off the gloom of winter and welcome spring by spending some time out in the sunshine.
How do you plan to spend the last few weeks of winter?