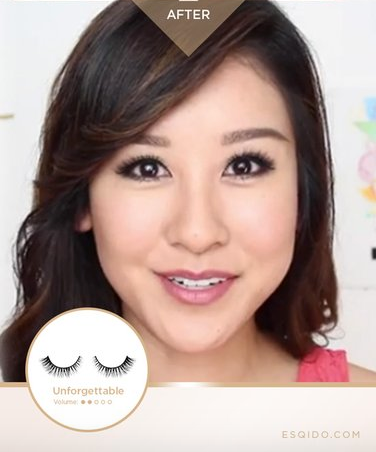 How To Make Your Eyes Appear Larger With False Eyelashes
The desire of having more lashes is usually the main reason why people love to use false eyelashes. However, there are many other amazing reasons why one should try false eyelashes, of the them is because it can magically make your eyes look bigger than it really is!
 
Christine, or Xteeener from Youtube shares a few tips and tricks on how she expertly maneuvered one of her favorite lash style (ESQIDO mink lashes in Unforgettable) to create an illusion of larger looking eyes. This small change was able to dramatically change the way her eyes look (see below of the before and after shot).  
Here are the simple tips and steps on how to achieve larger looking eyes with false eyelashes:
1. Start off by applying dark eyeliner (gel, pencil or liquid eyeliner) to your upper lashline. This will allow the band of the false eyelashes to blend together so no sparse areas are seen after the lash has been applied.
2. Trim the lash to the length that is comfortable for you (leave about half a cm from the inner corners of your eyes).
3. Apply lash adhesive to the band, wait about 20 seconds or when it becomes tacky.
4. Attach the lash to the outer corner of your eyes first. *For the inner portion, apply the lash band so it sits a little higher than your lash line.
5. You will notice that this technique will give a "lift" to the inner portion of your eyes creating an illusion of larger looking eyes.
It is amazing how much false eyelashes can do to our looks. Another favorite lash style to create similar effect would be "ESQIDO mink lashes Miss Dolly". After you've applied your favourite lash, be sure to check out how to properly care for your false lashes.
For the detailed video on how to do this, check out Christine's step-by-step tutorial here. Photo credits: Xteeener