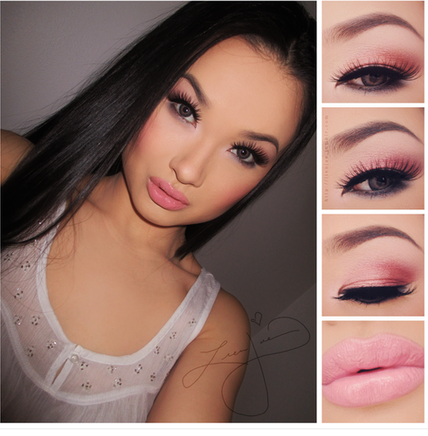 Easy Romantic Smokey Eye Makeup Look
Learn how to achieve this step-by-step simple rosy smokey eye makeup look by Lien Jae. It is wedding approved and perfect for brides! 
The season of love and weddings is here. Lien Jae shares with you how to create a rosy romantic smokey eye makeup look using a pair of our ESQIDO false eyelashes with best lash glue. This simple yet elegant look is perfect for brides and great for dates. The following steps are from Lien Jae using the Naked 3 palette.
Steps by Lien Jae:
1) Begin by priming the eyes with an eyeshadow primer, then take a flat eyeshadow brush and sweep the shade "Dust" all over the lids.
2) Using a blending brush, apply the shade "Burnout" to the crease and blend the eyeshadow upwards.
3) Next, pat the color "Nooner" on the outer lids to add depth to the eyes. 
4) Highlight underneath the brows and the tear ducts with "Strange". 
5) Using a thin angled brush, create a slight winged eyeliner with the shade "Blackheart". I love using an eyeshadow to line my eyes—-it creates a very soft look, which I thought would be perfect for this makeup look! 
6) Line the outer third of the bottom lash line with "Blackheart" and smoke out the eyeshadow to create a hazy effect.
7) Apply mascara and falsies in Voila Lash if desired, and this dolly makeup look is complete!